Flash ASJTM
Flash ASJTM was developed and patented by Impact Technologies LLC (Impact) and Missouri University of Science and Technology (MS&T) as an efficient cutting and drill method to replace high pressure water jet cutting and bit grinding type drilling systems. FLASH ASJTM is up to 20 times faster than these conventional drilling systems. "Flash" stands for the volume increase of super critical fluids as they transverse the patented nozzles used in the process and the acronym "ASJ" stands for Abrasive Slurry Jetting. The FLASH ASJTM drilling system component was initially developed under a Oklahoma Center for the Advancement of Science and Technology (OCAST) project AR06(2)-051 (contracts #6806 and #6916) entitled "Novel Inverted Electric Motor for Drilling" ending in July 2009 and AR082-065 (contract #7121 & #7373) entitled "High Pressure Slurry Pump for Cutting and Drilling" ending July 2010. The full system was further developed under the Department of Energy (DOE) project DE-FC26-04NT15476 entitled "Novel Low Cost Method to Install Geophones for CO2 Monitoring" ending April 2008 and DE-EE0002783project entitled "Microhole Arrays Drilled with Advanced Abrasive Slurry Jet Technology to Efficiently Exploit Enhanced Geothermal Systems" that ended July 2013.
Those projects demonstrated the capability of FLASH ASJ to efficiently and rapidly cut narrow or wide slots and drilling full bore diameters without rotation, while still requiring low standpipe (pre-nozzle) pressures of less than 5,000 psi. The possible applications include: surface trenching, mining, tunneling, and shallow GSHP heat exchange wells. Deeper drilling applications were seen as possible, but first require full development in shallow applications to demonstrate efficient slurry generation at pressure and system control.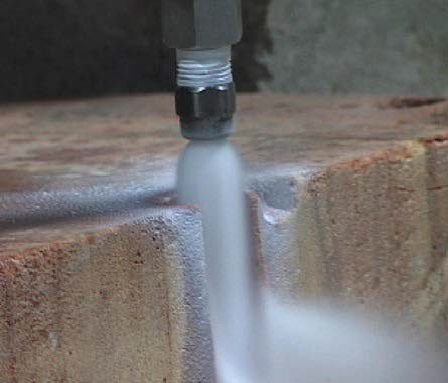 Early FLASH ASJTM drilling a sandstone target at MS&T using 5,000 psi
Currently, ultra-high pressure abrasive waterjet cutting is used in industrial applications from cutting rock for countertops to steel plates in fabrication shops, and it is utilized offshore for platform demolition. These systems operate at pressures ranging from 20,000 psi up to 60,000 psi. Some post-nozzle abrasive additions are utilized for cutting these harder materials.
The FLASH ASJTM system consists of abrasives, supercritical fluids, chemical additives, a specialized and patented nozzle, and modified patented high pressure slurry pumps. The system accelerates the abrasive particles through a nozzle by flow area reduction AND the expansion of the dense, liquid supercritical fluid into its low density gaseous phase. The FLASH fluid must be in its liquid or near liquid state inside the drill string and into the nozzle, to help carry the suspended abrasive particles before they are accelerated. Expansion of the gas phase propels the abrasive into a wider diameter bore and the cutting occurs ahead of the nozzle with no weight-on-bit (WOB) or reactive forces required.
Examples of FLASH fluids include (but not limited to) heated water as steam, carbon dioxide, methane, propane, butane and nitrogen.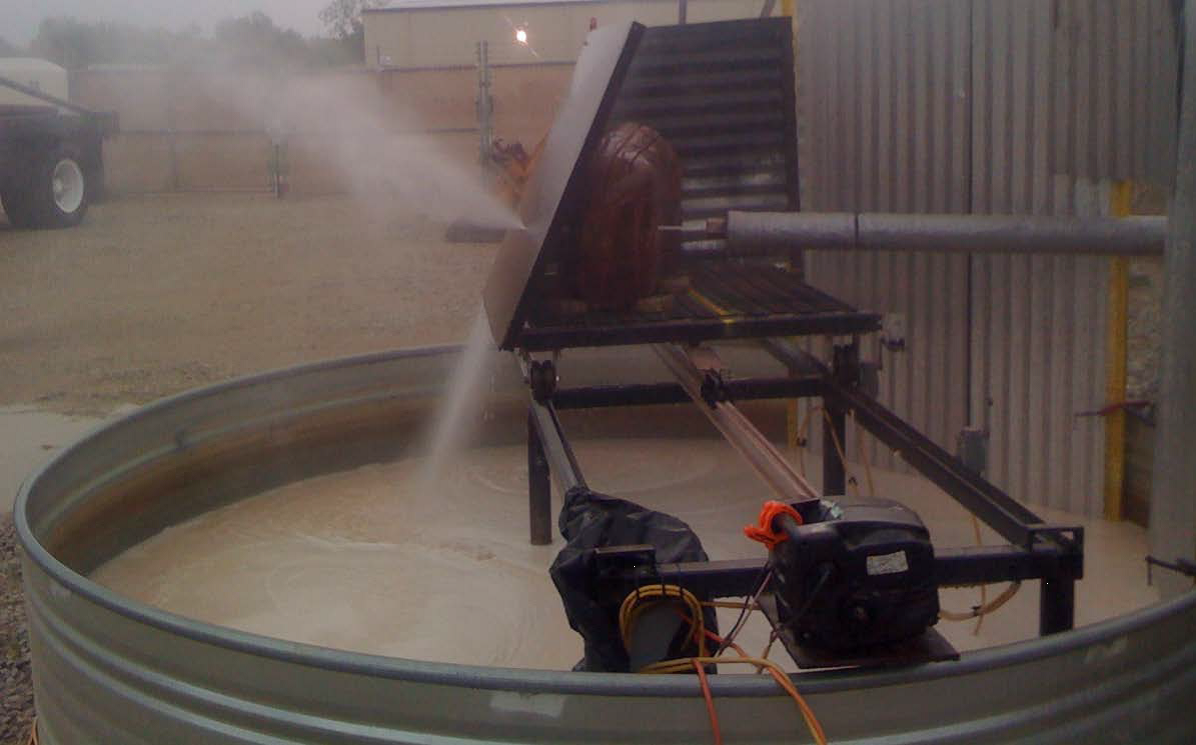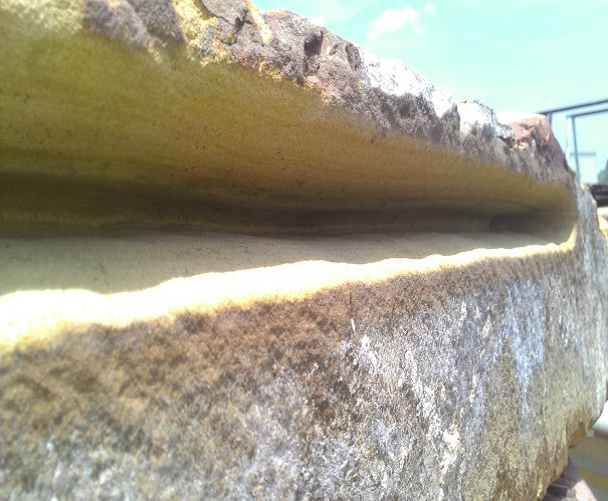 Steam FLASH ASJTM bench test May 2010 - Cut through a steel plate backing CO2 FLASH ASJTM bench test June 2012 - Sandstone (est. UOC 15,000 psi)

CO2 FLASH ASJTM Cutting on a Grey Granite (est. UOC 20,000 psi) Tombstone Target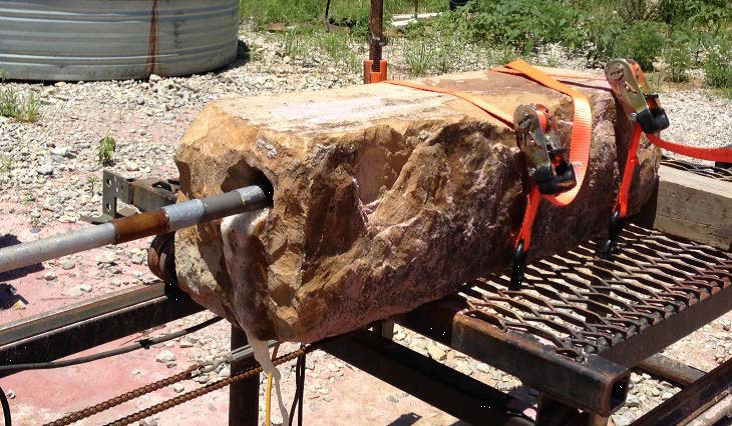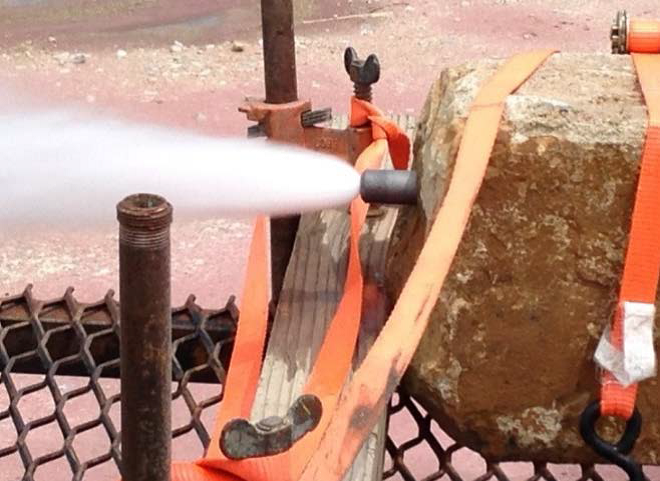 CO2 FLASH ASJTM Bench Boring a 3 foot long Sandstone Exiting through the 3 foot long Sandstone
Impact has developed multiple tools for FLASH ASJTM drilling, including the patented High Pressure Slurry Pumps (HPSP, piston and plunger) for delivering abrasive particles at up to 15,000 psi without minimal wear; specialized patented cutting nozzles; swivels; inverted motors for advanced drilling methods and extended drilling controls; jointed and coiled directional tools; inverted laterals for enhanced recovery of heavy oil and EOR operations; gas-liquid-solids (GLS) separators for processing surface returns. Specialized FLASH ASJ nozzles were used in over 250 large scale bench cutting tests with various combinations of abrasive concentrations, fluids, fluid/gas ratios, flow rates, temperatures and pressures to optimize the FLASH process and nozzles. Impact will continue developing the FLASH ASJTM technology for cutting and drilling, but starting in surface and shallow operations.
Impact Technologies LLC | P.O. Box 35505 Tulsa, Oklahoma 74153 | (918) 629-6993 | (918) 627-8013 (Fax)